UPDATE: The Meemaws for Obama pin is no longer listed. I will be attempting to find another way to get this out to folks who want one.
So it has been a few weeks since I have shown anyone the buttons I have made, so here are some new ones. The first two are due to my love of the Big Bang Theory. One of the funniest shows on television right now.
Meemaws for Barack Obama button
by
emk4ever
Any fan of the show will know that Dr. Sheldon Cooper is very fond of his Meemaw (grandma). The creators of the Big Bang Theory have yet to show Meemaw in any significant manner. What a hoot it would be if Jim Parsons had to play his own grandmother! I decided to Photoshop him into something almost Norman Batesish. With the wig sorta off and the very thick sweater. The little atoms have the Obama logo in the center.
This second button design is another homage to The Big Bang Theory. Big Bang Theorists for Obama. Just a little fiddling with the show's logo and instead of calling it Theory, using the word Theorists (helps keeping me from being thrown the old copyright book at me). Again, the atom vector has the Obama logo.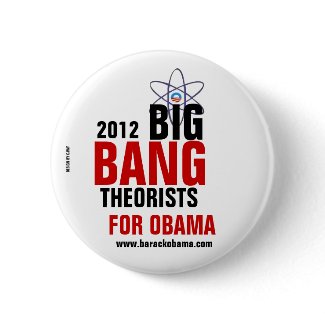 Big Bang Theorists for Obama
by
emk4ever
This pin was somewhat of a surprise to have to make. Rick Santorum's recent primary and caucus sweep this last Tuesday made me pause and contemplate that he might actually make it to the May Oregon primary. Since having already made Romney and Paul, I have included Rick Santorum now for Oregonians to show their support through buttons. Pretty simple. Find a cool image of a neat place in Oregon and plop old Rick there. Can you name the bridge in the background?