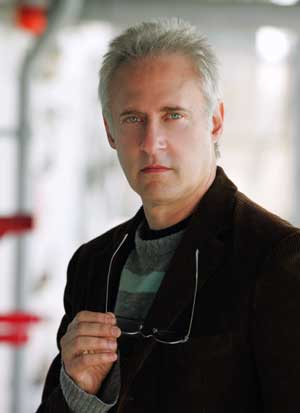 Brent Spiner
appeared for one night only at Portland's Roseland Theater last night and it was a performance not to be missed. I bought a VIP ticket and awaited my chance to see one of the great stars of Star Trek preform. There was great music by the band assembled, he had "Brad" from
Glee
at piano that helped create a playful atmosphere with Brent and the audience. I sure wish there had been a program that included the names of the band members, they deserve some credit for a great job.
The main theme of the evening was to see Brent Spiner, as you have never seen him before. As someone who doesn't get out to sci-fi and comic-con conventions this was indeed true, as it may have been for many people. I saw folks of all ages, the oldest person I saw must have been in her 70s or 80s. He sang, danced and told stories about meeting famous people when he was younger. As with all good storytellers you never know what is
true
or what is true for purposes of entertainment. Either way, it was delightful and very biographical. It was in all sense a musical biography. There was a question and answer break where the audience got to ask questions. Brent answered a few and then a certain Michael Dorn asked a question. I can't remember, but his name sounds familiar...He got Brent to do his famous Patrick Stewart impression that has delighted fans for many years.
Brent talked about life growing up in Houston and attending what the locals and students referred to as "Hebrew High", his mostly Jewish high school. Being raised by a single mom and putting up with her music tastes of Robert Goulet, and his brother. From there he continued to go onto other firsts in his life, all the way to his first child. I won't share too much more, if he does this show again you'll have to go see it or buy a dvd of it if they sell one. They did film the entire show, so they just might do something like that.
Most the evening he was on stage he was a cross between at 60s lounge singer and a tent revival preacher. He spoke passionately about being one the of luckiest SOBs to have always managed to get to do things he loved and share that love with others. Love for all was one of the main themes throughout the evening. In between all the jokes, the Star Trek questions, and songs was love. A simple, universal message.
The show itself was great. If there was one downside, it must have been the logistics of what was to come afterwards. You may be able to remove the Star Trek actor from a convention, but it seems you cannot remove the convention routine from an appearance of a Star Trek actor. I bought a VIP ticket, and apparently so did a lot of people. The rumor floating around from crew, event staff, security, other VIP ticket holders was that the ticket vendor sold more VIP tickets than they were suppose too...like a lot more. The idea was that everyone who purchased a VIP ticket was guaranteed at picture and autographed special edition poster of the event, then non VIPs had the chance to get a photo with Brent. Can you imagine what the line of 200+ VIP ticket holders in the Roseland Theater was like? The place looked like a Republican polling location in a swing state. The line was everywhere.
I thought where I was sitting, right near the table where he would be coming back to sign things was a great seat and I would have a chance to get in line early. That didn't happen. Right before the encore, people started lining up right by my seat. My seat mates and I pondered how the hell we were going to get out. I ended up having to head towards the back of the line. The show ended somewhere after 9:20ish and I didn't make it to the top of the line until close to 11:00pm. There were at least 50 in line after me.
The staff at the Roseland handled the situation as best they could and persevered. Brent was a champ and vowed to stay until everyone had their picture taken and got an autograph. Though his manager or body person was close by to keep conversations quick and the line moving. He had an early flight the next morning. I was a good fan and gave him a thank you gift and posed for my picture and left. I won't claim that other talent wouldn't have done it, even though some of the Roseland staff did. They probably are not use to dealing with Trek alumni. Brent Spiner knows that his fans, be they Star Trek fans or not, are a special bunch of people. I'm sure there will be a debriefing by the crew and staff on what worked and what didn't. Logistics problems can be fixed for future performances.
When you think about it, from the audience perspective, if the only things lacking were a program to properly recognize all the stage people and the proper logistics for the conventionesque part of the evening. It was a great show then. Selling more VIP tickets than you were suppose to (if that is really what happened) is a great thing!
As I await my email notifying me of my photo, I sit and wonder what would happen if Brent Spiner and Robert Picardo could come up with if they collaborated on an album together.
My signed poster and ticket stub.